Admin

Admin


Posts

: 47632


Join date

: 2013-12-04

on Fri Aug 24 2018, 11:16
Wigan councils reaction
"News: Here's our reaction to the news Marks and Spencer will be moving from Wigan town centre and what we're doing to support future regeneration"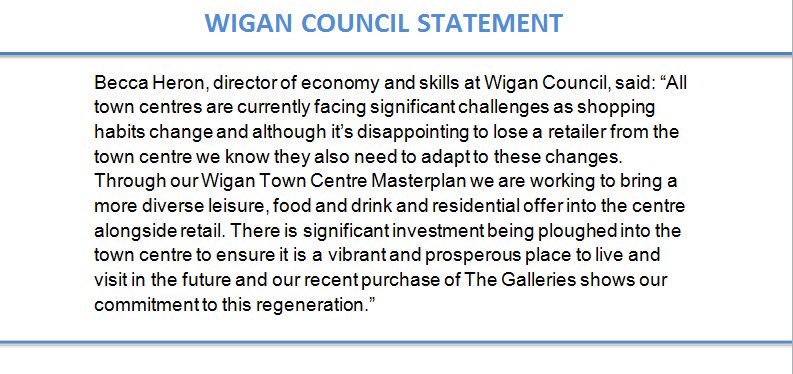 Him

Posts

: 699


Join date

: 2017-06-27

on Fri Aug 24 2018, 11:26
Just read the
WEP Story
I dont think it's a bad thing. Times change and shopping habits change. We have to adjust.
freddy

Posts

: 146


Join date

: 2016-12-30

on Fri Aug 24 2018, 13:53
Ehm.. Just look at the council's previous masterplans. 1987- Let's flatten a popular thriving market hall and outside market that only need a refurbishment. 1995 - Let's put parking meters everywhere to drive all the shoppers away.   2006-Let's build an unnecessary new mall when the one we've got is half empty and whoever's left can move into the new one leaving the old one completely empty.   2018 - Lets build loads of eats and drinking places for the folk that no longer bother coming to Wigan as all the shops have closed................... On the plus side Wigan's currently a great place to visit if you're an alcoholic and will be even better with these new 'drink retails'.
Admin

Admin


Posts

: 47632


Join date

: 2013-12-04

on Fri Aug 24 2018, 15:59
You do have a point freddy.

I cant see people wanting to go to Robin Park purely to shop for M&S Food. There are too many fast food outlets there, so I dont suppose workers will want to get lunch from there. I wouldn't drive there to do food shopping only at M&S.They should keep their clothing section in my.opinion.
Admin

Admin


Posts

: 47632


Join date

: 2013-12-04

on Fri Aug 24 2018, 21:26
Marks and Spencer has announced its intention to leave the Grand Arcade
and open up a food hall at the out of town Robin Park shopping area instead.
Knickers To You All
Marks and Spencer
where will it all end,
national institution
out of town wend,
say bye bye
Grand Arcade no more,
as Robin Park
prepares to welcome this store
--
of knickers
for discerning older lass,
who Primark
the fuller figure alas,
oh Wigan
place of wonder with mi mam,
Little Arcade,
Gorners Café and spam,
--
that was then,
now slowly the rot
sets in
as each headline got,
screams lament
of a town in decline,
another fixture
out of town now consign,
--
and our Wigan,
before empty shops abound,
the solution
it's imperative must be found,
else remain
just the ghosts of shopping's past,
Marks and Sparks,
a knickers tribute
flies half-mast.
--
(George Melling, Th'Owd Chap, 24th August 2018)
Many thanks George

Vixen

Posts

: 6045


Join date

: 2013-12-05

on Fri Aug 24 2018, 22:02
Another slap in the face for those folk who live near the town centre, not one supermarket/food shop left once they go. I know a few who depend on being able to get staples from there....
tonker

Posts

: 6590


Join date

: 2013-12-05


Location

: Metropolitan Borough of Haydock

on Tue Aug 28 2018, 23:44
Admin

Admin


Posts

: 47632


Join date

: 2013-12-04

on Thu Apr 18 2019, 18:29
"Retail giant Marks and Spencer have revealed plans to close their Wigan store and relocate outside of the town centre. ... The retailer, which is famed for its luxury food offering, is not the first to have left the town centre for pastures new"


Robin park I wonder?
stars

Posts

: 226


Join date

: 2013-12-13


Age

: 77


Location

: Wigan

on Sat Apr 20 2019, 18:17
I thought I heard talk at the back end of last year that the food section of marks and spencer moving to robin park, so possibly so admin

Permissions in this forum:
You
cannot
reply to topics in this forum